Rhode Island FC is excited to announce its upcoming open tryouts, providing a unique opportunity for talented players to impress and earn a coveted spot on the team's inaugural season roster. The tryouts will take place Saturday, November 11 at Providence Country Day School.
Rhode Island FC's coaching staff will be in attendance to assess all players participating in the tryouts. This presents a golden opportunity for aspiring players to catch the eye of the coaches and potentially secure a roster spot within the newest franchise in the USL Championship.
Prospective participants should arrive at Providence Country Day School fully prepared to demonstrate their technical skills, tactical acumen, and overall soccer abilities.
All interested players are required to register in advance to secure their spot and avoid disappointment due to limited availability. For registration details and additional information about the tryouts, please click the image below.
Tryout Details
Open Tryouts for the 2024 Season are currently full. All players interested in participating in the Rhode Island FC Open Tryouts are welcome to sign up for the waitlist through the provided registration link. The technical staff will reach out to you if a tryout spot becomes availalble.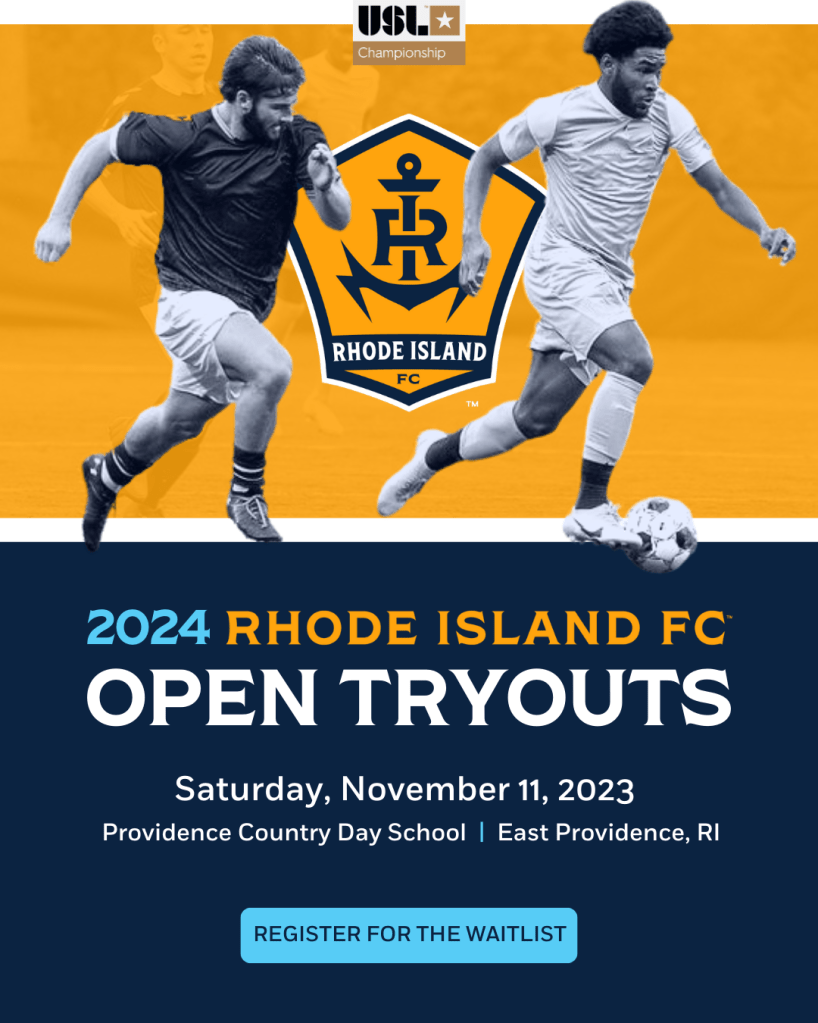 Schedule
Saturday, November 11, 2023:
There will be (3) different Tryout Times – additional times may be added if needed

8:30am – 10am
10:30am – 12pm
12:30pm – 2pm
You will receive an email confirmation of your Registration and the the time you will be trying out
Eligibility
Must be 18 years or older.
All players must complete registration and sign the required waivers to participate.
Players should check with their school's NCAA compliance officer and college coach before registering for the tryouts. Rhode Island FC is not responsible for NCAA eligibility.
Registration Information
Registration opens on Tuesday, September 12 at 10:00am
Participants are responsible for all travel related reservations and fees.
Rhode Island FC Open Tryouts are non-refundable.
Other Information
What to bring:

Photo ID
Soccer apparel and personal equipment including soccer socks, shin guards, boots/cleats for grass pitch, black shorts, shirt.
If you are a GK, please bring the appropriate equipment, including gloves.
Something to keep all of your gear together (no lockers will be provided).
A water bottle and any food, snacks or beverages that you may need (food will not be provided).

Important Note: The weather can be extremely cold/wet this time of the year. We recommend you bring long-sleeves and plenty of warm clothing.
Trainers and medical personnel will be onsite.
Friends and family can watch the tryouts, but must sit in the designated spectator area.
Questions? Email us at scouting@rhodeislandfc.com